Baseball. The only perfect game in sports. The only fair experience in life. America's Favorite Pastime.
You gotta be kidding me…
Fast forward to 2017, this week in baseball news… in light of the most recent incident involving Orioles All Star outfielder Adam Jones, the target of racial slurs and peanut bag hurls. Lets not forget what Dexter Fowler experienced just a few months back from his OWN team, the St Louis Cardinals.
Fowler, a former member of the world champion Chicago Cubs in 2016, signed with the St Louis Cardinals this past off season, and before the ink could dry, was subjected to racial slurs and accused of being "unpatriotic" for speaking honestly when asked about his opinion on Trump's travel ban (his wife is Iranian and he obviously has an opinion of concern). He called the the ban "unfortunate", and the Cardinal fans, albeit a minority section on social media, went berserk.
This incident has been "mum" to the mainstream to say the least, but I expect that. The fact is that most of the players, specifically the black players, are not as socially active or vocal about their negative experiences with the racial slurs or discrimination. They just "play ball". Adam Jones is much more vocal, and has been socially active for some time now.
He is also a recipient of the Roberto Clemente Award, given to the player that "best represents the game of baseball through extraordinary character, community involvement, philanthropy and positive contributions, both on and off the field." Other players however, are not as active or vocal about their experiences as Jones has been.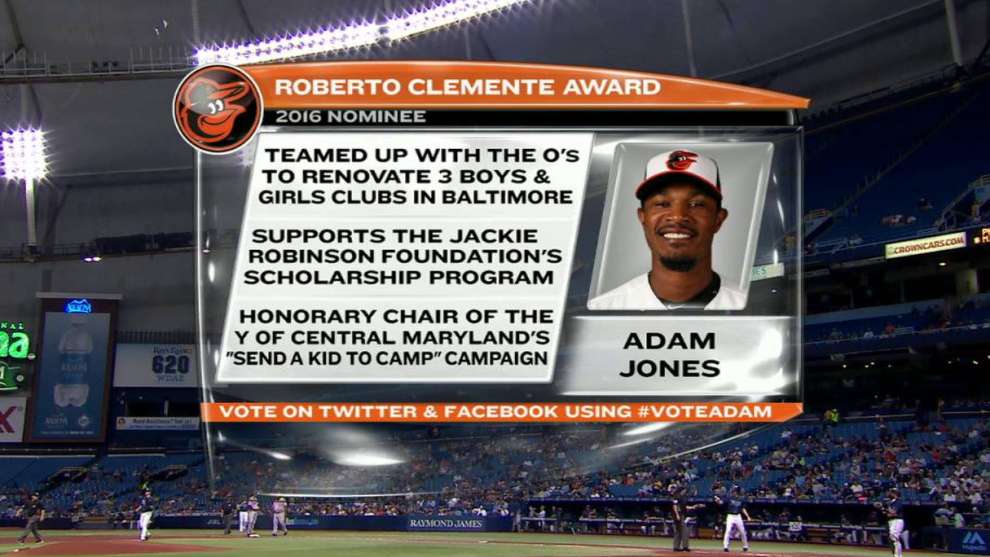 At the height of Kaepernick's national anthem protest, male and female athletes from grade school to professional sports expressed support and participation in the "take a knee" protest.
Not one single MLB baseball player did.
That includes Adam Jones.
Does that not resonate with anyone? Colin Kaepernick has essentially been blackballed from the NFL and is jobless for exercising his American right to protest, and in the baseball community where players are paid 2x more than the average football player and typically has a much longer career, have no voice?
No comment on the travel ban. No comment on "The Wall" despite the presence of the Latin players in baseball. No comment on the racial divide and criminal injustices going on in their own backyard (Ferguson is in Missouri, home of the St Louis Cardinals). The media spin is not needed in these cases, because the players are unwilling to stand up and be active.
Listen, I'm a big fan of baseball, it was a great sport to play as a kid, and anyone who knows me can tell you how much I love my Chicago Cubs. But it is downright pathetic how the professional sport of baseball – the behavior of the fans, the silence of the players all the way up to ownership, have been nothing short of embarrassing with their lack of activism in regard to today's racially divided America.
These men are worshiped. They have more influence over the average American than any politician, and they are choosing to be silent.
So, when a black ballplayer gets called the N-word, or has a bag of peanuts thrown at him. Or a banana thrown at him. Or receives an online barrage of racial epithets for just being…American, it is disheartening to see them all, almost in unison, say they "just wanna play ball."
No wonder it continues to happen, as Adam Jones pointed out just the other day. It can almost be perceived as acceptable behavior. "A part of the game.."
What would Jackie Robinson think?
Here is a quote from his 1972 autobiography, "I Never Had It Made"
"There I was, the black grandson of a slave, the son of a black sharecropper, part of a historic occasion, a symbolic hero to my people. The air was sparkling. The sunlight was warm. The band struck up the national anthem. The flag billowed in the wind. It should have been a glorious moment for me as the stirring words of the national anthem poured from the stands. Perhaps, it was, but then again, perhaps, the anthem could be called the theme song for a drama called The Noble Experiment. Today, as I look back on that opening game of my first world series, I must tell you that it was Mr. Rickey's drama and that I was only a principal actor. As I write this twenty years later, I cannot stand and sing the anthem. I cannot salute the flag; I know that I am a black man in a white world. In 1972, in 1947, at my birth in 1919, I know that I never had it made."
I think he would be rolling in his grave at what is still going on today in sports. Ashamed of baseball. Ashamed of America.